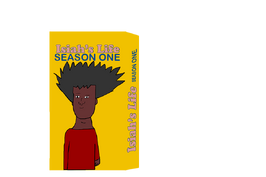 The 1st Season of the animated sitcom Isaiah's Life premiered on October 12th,2005 from March 22nd,2006 on TV64 (now DPS). Every episode starts with Isaiah's life in 6th grade. This is the last show Trey Games appeared as a helper before he died in a trailer crash on June 10, 2006. The show released on VHS & DVD on May 10, 2006. This was the only Isaiah's Life to be released on VHS.
1. Pilot Released: October 12th,2005
2. Isaiah's Second Week of School Original air date October 19, 2005
3. Isaiah's Enemy Original air date October 26, 2005.
4. Isaiah's Neighborhood Original air date November 2, 2005.
5. Isaiahgiving Original air date November 9, 2005.
6. Isaiah's MySpace Original air date November 16, 2005.
7. Isaiah's Barn Original air date November 23, 2005
8. Isaiah's Mom's Birthday Original air date November 30, 2005.
9. Isaiah's goes to McDonald's Original air date January 11, 2006.
10. Isaiah's Not So Good Valentine's Day Original air date January 18, 2006.
11. The bat flew in are living room!! Original air date January 25, 2006
12. Isaiah's Hand got Stabbed by Bully Original air date February 1, 2006
13. "No, were moving to the otherside of Barkdale Original air date February 8th,2006
14.Spending a night at Grannys Original air date February 15th,2006
Ad blocker interference detected!
Wikia is a free-to-use site that makes money from advertising. We have a modified experience for viewers using ad blockers

Wikia is not accessible if you've made further modifications. Remove the custom ad blocker rule(s) and the page will load as expected.