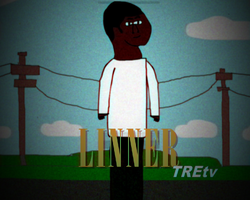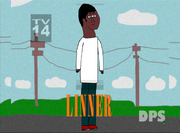 Linner is a American animated sitcom created by Trey Games aired on June 10th, 1994 at 10:30pm ET on TREtv (which is now DPS). The series that ran for six seasons (1994–1999) and continued in reruns on VTV until 2013. In 2014 the series was revived by Donovan Shavis, the revival was aired 8 years after Trey Games got killed in a trailer crash in 2006.
The show is about a 12-year old boy (now 33 in the revival) named Linner Shavis spends his life with his friends in the fictional town in Dorianburg, Michigan.
Theatrical Film
Edit
On August 25, 2000 64 Pictures released a film based on the television series called Linner: The Movie.
Home Video releases
Edit
DVD-Linner: Season 1 DVD Release Date: May 6, 2005
Linner: Season 2 DVD Release Date: August 1, 2006
Linner: Season 3 DVD Release Date: September 3, 2007
Linner: Season 4 DVD Release Date: May 26, 2008
Linner: Season 5 DVD Release Date: September 15, 2009
Linner: Season 6 DVD Release Date: October 5, 2010
Linner: Season 7 DVD Release Date: July 26, 2015
Linner The Movie: DVD Release Date: January 16, 2001
VHS-The Best of Linner- Includes the episodes "What We Did on Our Summer Vacation" and Lost.
VHS Release Date: May 5, 1997
Linner's Chronicles- Includes three episodes from Season 2.
VHS Release Date: May 5, 1997
Linner The Movie:
VHS Release Date: January 16, 2001
Big Brother Linner- Includes Big Brother Linner and Linner babysits Sampson
VHS Release Date: May 5, 1999
Linner's Halloween-Includes Linnerween, Linnerween II, Linnerween III, & Linnerween IV.
VHS Release Date: October 30, 1998
McDonald's first sold the series of Linner toys on September 5, 1994.  
On May 21, 2011 Donovan Shavis has announced that he is reviving the series for new episodes premiering in the summer of 2011. On June 23, 2011 the date has pushed to August 2014. 
Awards and nominations
Edit
Ad blocker interference detected!
Wikia is a free-to-use site that makes money from advertising. We have a modified experience for viewers using ad blockers

Wikia is not accessible if you've made further modifications. Remove the custom ad blocker rule(s) and the page will load as expected.