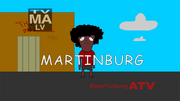 Martinburg is an American adult animated sitcom on ATV The series is created by Dorian Shavis, and is about a 14-18 year old teen named Dakaylon (Dorian Shavis) who lives in the financial neighborhood of Martinburg. The show was edited in syndication on DPS. After DPS Networks shut down DPS, ATV, Life, & Teen tv on June 6, 2015, the show moved to MkShinx Channel on June 10, 2015. The show will be cancelled on June 8, 2018. And it will feature film called Martinburg was released on June 1st, 2018
Release:June 11th,2014
Preceded by: The Three Boyz(pilot episode 2013) Westside Hood Hustler(2007-2012)
The Three Boyz (2013)
Edit
Martinburg show was based on the concept movie that was released on forth of July week of 2013.
Martinburg became animated adult funny series of the year on the Spring Break Week Awards of 2015!
Martinburg: "Jordan go to the bathroom" : "A Real Nigga Fart" became number ones most funniest moments of DPS
Marinburg became one of the most non-stopped shows of 2016
Ad blocker interference detected!
Wikia is a free-to-use site that makes money from advertising. We have a modified experience for viewers using ad blockers

Wikia is not accessible if you've made further modifications. Remove the custom ad blocker rule(s) and the page will load as expected.