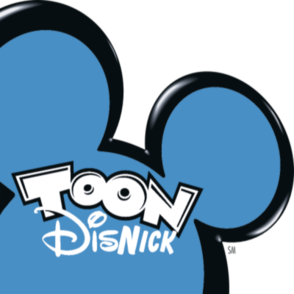 Toon DisNick is a cable and television satelite television channel that was launched in the United States on November 8th, 2002 as a spin-off channel to DisNick. The channel airs animated content from Cartoon Network, Disney Channel and Nickelodeon 24-hours a day. The channel currently has over 32 million TV subscribers in the United States.
In 2001, Disney, WB and Viacom announced the launch of an all-animation spin-off cable channel to DisNick known as "Toon DisNick". The channel was launched in the United States on November 8th, 2002 at 8:00am ET. From 2002-2004, the channel was only exclusive to cable before expanding to satelite television in the fall of 2004.
The channel introduced a new logo in the fall of 2007 to concide with the channel's fifth aniversary (which was 4 days before the rebrand). With the new on-air look, the channel's website was also dramatically changed, along with the channel's press site.
Programming

Edit
DuckTales
Timon and Pumbaa
I Am Weasel
Cow and Chicken
Hey Arnold!
The Angry Beavers
Powerpuff Girls
The Weekenders
Spongebob Squarepants
The Proud Family
Lloyd in Space
The Fairly OddParents
Invader Zim
Fillmore!
The Adventures of Jimmy Neutron: Boy Genius
Kim Possible
My Gym Partner's a Monkey
ChalkZone
Lilo and Stitch: The Series
Avatar: The Last Airbender
The Emperor's New School
The Replacements
Foster's Home for Imaginary Friends
Tak and the Power of JuJu
Phineas and Ferb
Fanboy and ChumChum
Adventure Time
Regular Show
Fish Hooks
Planet Sheen
T.U.F.F. Puppy
Kung Fu Panda: Legends of Awesomeness
The Legend of Korra
Gravity Falls
Steven Universe
Sanjay and Craig
Wander Over Yander
Breadwinners
Mighty Magiswords
Ad blocker interference detected!
Wikia is a free-to-use site that makes money from advertising. We have a modified experience for viewers using ad blockers

Wikia is not accessible if you've made further modifications. Remove the custom ad blocker rule(s) and the page will load as expected.